Acknowledgement of Country
MPN-MATE Research Foundation acknowledges the Dharug and Darkijung people as the Traditional Custodians of the Hawkesbury and pays respect to Elders past, present and emerging.
PLEASE DOWNLOAD THE RIDER'S ENTRY FORM BY CLICKING THE BLUE BUTTON , COMPLETE & RETURN THE FORM VIA THE EMAIL ADDRESS PROVIDED. THANK YOU…

The above image was taken from our Brochure which depicts the actual course of the river and part of the route that the Secret Dyarubbin River Ride will take from 06:00 AM on SUNDAY, DECEMBER 3. Commencing from Thompson Square, Windsor NSW; this is a scenic cycling historic adventure, (NOT A RACE). There are quite a few challenging ascents, Two River crossings, and plenty of Rest Stops along the way. For those who'd prefer 'Not To Take To The Hills', that's fine as you can await the peloton's return while enjoying the hospitality of the Tractor 828 Cafe; Or take a seat in our Bus…
The "SECRET DYARUBBIN RIVER RIDE", is a completely "GUIDED RIDE" experience in and around the mighty Hawkesbury River. Our "ON-ROAD" professional event manager is provided by the expertise of ENTOURE – a Specialist Cycling Event Management Company. Kent Williams will lead our small Peloton, communicating by 'Walkie-Talkie' with our 'On-Road cycling Captains, our Sweeper Bus, & our First Aid Officers from St John's Ambulance.
Leaving from alongside Australia's oldest Pub, (Macquarie Arms Hotel), we will descend across the mighty river, past the turf farms of FREEMAN'S REACH, weaving our way through some scenic rural countryside, we'll make our way across the PUTTY RD & down on to Old Sackville, ultimately leading our Peloton to our first stop at EBENEZER CHURCH (c.1809), where Rev. McGarvie gave his ministries. Passing by Portland Head Rd where early cultural clashes are said to have taken place before appreciating the vista of lagoons (WANGI) on our way to one of Australia's oldest Winerys (TIZZANA WINERY). Our peloton will then make a refreshment stop at TRACTOR 828 before taking to our first real Hills, the pinch up West Portland Rd…
Climbing up before making a short swift descent to Lower Portland & our first river crossing. PARADISE CAFE & the Peloton's 2nd refreshment stop awaits. A challenging climb back up out of the valley before another swift descent to Sackville Ferry, while spying the Giant Eel Serpent in the cliff rock-face above to our right, (WOWAME), watching our  Peloton's descent & cross back over the River before our return to Windsor (BULYAYORANG).
Prof. Grace Karskens, rightly deserves our gratitude, when her research stumbled upon the wordsmith creativity of a Rev. John McGarvie's works created in the early 1800s. This "Long Lost List of "178 Dharug & Darkijung First Nation's Place Names" became revealed, when the First Nation's river peoples shared that knowledge with McGarvie.  Adding to the richness of the tapestry that is Australia's First Nation's & Colonial shared history, during the inevitable clash of cultures of those times… By the way, the Dharug name, "Dyarubbin" is believed to mean "Wide, deep water"…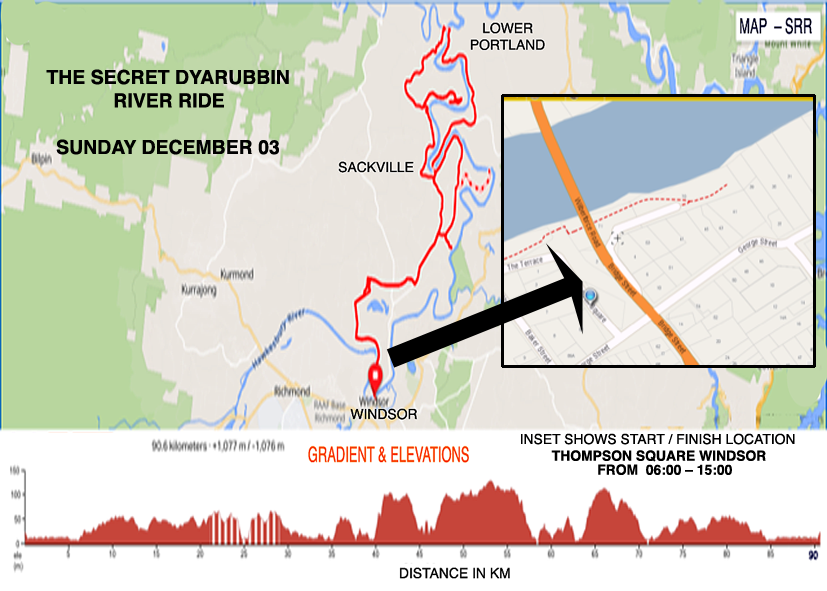 The overall distance of the "Secret Dyarubbin River Ride" by this Map above, is circa 90.6km. However, there is a section of approx' 10km that has now been excluded due to poor road conditions, & the weather on the day (?) The "Revised Distance 83.5km" Ride will depart from THOMPSON SQUARE WINDSOR NSW, from 06:30AM SHARP!
To 'Download' a complete copy of our  "EVENT BROCHURE" please click "DYARUBBIN RIVER RIDE"
The "CUE–SHEETS" for directional assistance will be available shortly from this space…
FOR OUR RIDERS & SPONSORS
NAB BANK DETAILS – MPN-MATE RESEARCH FOUNDATION
BSB: 082-356 ACC: 93-864-1618
MPN-MATE RESEARCH FOUNDATION – RIDER'S WAIVER FORM Firstly, thank you for all taking part in what promises to be a most auspicious and historic cycling event, and for many good reasons…
RIDERS please complete our (RIDER WAIVER & ENTRY FORM) to Enter & Pay the Rider's Entry Fee to the Bank details provided below. Spaces are very Limited, so be wise & complete your Entry early…
The Hawkesbury & Windsor (Dyarubbin) River regions were inundated no less than Six (6) times during those past circa Three (3) years of flooding. Much recovery is still in progress, and hopefully, our small gesture might help to reinvigorate some active tourism & patronage of part of Sydney's mostly obscured Colonial & First Nation's history. What's more is the scenic vistas that the River provides are quite simply stunning!
The Dyarubbin Secret River Ride will take in some breath-taking scenery, while pausing along the route to glean some of the history & knowledge that surrounds this great & sacred River… 
Let's first describe a tad more detail about the "NO PASS – NO DROP" (means nobody is left behind), on the Secret Dyarubbin River Ride…
The Ride is circa 80km in length, & as we will stop frequently to visit significant locations, an early start is a must, ready at 06:00 for a 06:30 AM SHARP START from THOMPSON SQUARE WINDSOR, NSW. Besides, it's always cooler in the AM, (especially during summer).
PACE ~ 19-22kmph (Medium Steady)
This Ride has a few tough climbs, (pinches mostly), that 's short & steep by definition. Although climbing up to Lower Portland is a challenge & Riders will be well advised to utilise a good TRAINING PLAN at least Four (4) weeks ahead of the Ride. Being prepared is a MUST on longer Rides, so plenty of 'spare tubes' & 'nutrition' are essentials. Each Rider will need to carry their own. All participating RIDERS,  MUST be covered by INSURANCE & MUST sign our RIDER WAIVER & ENTRY FORM.
To all of our very generous Sponsors, Thank You! None of this would even be possible without your very welcomed assistance…
As of this writing, it may already be too late to join us however, please feel free to make contact; steven(at)mpn-mate(dot) com if you would like to learn more… Our packages on offer can be seen just below. 
Below is our Sponsorship Package offerings of: 
Gold – $1,000 x TWO (2)
Silver – $500 x TWO (2)
Bronze – $250 x Six (6)
Please select your desired level of preferred Sponsorship. Remember, just One Logo on Front or Rear of our Custom Designed Jerseys (GOLD & SILVER) sponsors. The original background artwork is from a piece created by a First Nation's Dharug women named Leanne (Watson) Redpath, who kindly consented to our use for this event. Thank you Leanne! (Click On Leanne's website below to see more of her beautiful art).
Along with the 'Donations' we are also hoping to Sell (or Auction), an incredibly rare piece of Australian cricketing memorabillia. Our 1999 – 2000 Ansett Test Series Kookaburra Bat, is signed by one of the greatest ever Australian teams. We are hoping to sell the Bat locally, as that helps reduce freight costs, (shipped within Australia unless otherwise agreed).
This Shane Warne (vc) & Steve Waugh (c) team played against Sachin Tendulkar's Indian team. The Bat is a glass-enclosed, Timber framed, autographed Bat by both teams, and of course comes with it's provenance intact, via a Cricket Australia Letter of Authenticity. Russel Crowe's sister Bat sold at auction for $1,708.
However, we will use whatever the proceeds amount to, in order to help fund our "Secret Dyarubbin River Ride's" many incidentals …
AUSTRALIA v. INDIA SIGNED BAT
In a nutshell, these are the specifics of the Dyarubbin Secret River Ride:
Rider's Donation $80
ALL Riders MUST sign our waiver
All Riders MUST have personal AUSCYCLING Insurance
ALL Riders MUST be 18 years or older
Rider's Event Jerseys Sold separately ($TBA)
Appropriate bright cycling attire is strongly advised
Helmets are compulsory
Head & Tail lights compulsory
Bicycle in good mechanical working order
All Riders MUST follow Instructions of Ferry Masters & Dismount to embark Ferry (metal is often slippery)
All Riders taking part are expected to be respectful to other Riders & Ride Leaders at all times
We'd love you to Fundraise to assist us further however it's not mandatory
Essential to have an awesome & enjoyable Day's Ride!
SECRET DYARUBBIN RIVER RIDE ANIMATION
This animation is provided by RELIVE…
Just "Double-Click on the map to make it larger…

The First Nation's artwork was created by Leanne Redpath, which depicts the meandering course of the Dyarubbin River. Should you wish to see more of Leanne's artwork please 'Click–On' the Darug Custodian Aboriginal Corporation, to visit her website gallery. Thank you Leanne…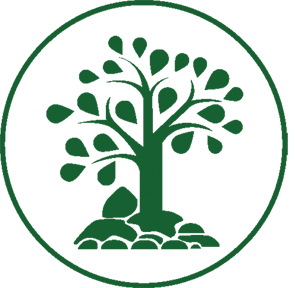 Upon land considered sacred by the Dharug & Darkijung First Nation's people stands a huge Fig Tree that seems like it's leaning or resting over a huge boulder, (click-on Logo to see the Fig Tree resting on the Rock). The Sackville Reach Aboriginal Reserve was declared September, 1889. Comprised 150 acres of land on Cumberland Reach, not wanted by settlers because it was too rugged, strewn with huge boulders and rocks. Just two small areas, were considered as suitable for building homes and raising crops. However, after the last First Nation's inhabitants passed away, the land was revoked. Later, in 1952 a stone obelisk was erected near the fig and rock as a memorial to 'the First Nation's people of the Hawkesbury'. For clarification, the name "Deerubbin" is the correct spelling for the River according to the Deerubbin Aboriginal Land Council. However, others have spelt it slightly differently, "Dyarubbin". Essentially, both names are referring to the original name given to the River by the First Nation's people before it was later changed to the Hawkesbury by early Europeans. For those wishing to learn more of those early histories of life around the River. An enormous resource was created called "The Secret Dyarubbin River Project". For those of you studying or simply wishing to know more about our past this is a fascinating source of knowledge and information...
Although NSW State Health has no current CV – 19 WARNINGS, we will still be advising our Riders to maintain the following safety protocols. Should there be any changes to CV – 19 Warnings we will advise accordingly:
*  Physical distancing of 1.5 metres should be observed where possible.
*  All riders are encouraged to bring hand sanitizer.
*  Riders must not attend if sick, have Covid-19, influenza or symptoms of any communicable disease.
EVENT DISCLAIMER:
MPN-MATE RESEARCH FOUNDATION is a 'Not For Profit' Rare Blood Cancer Health Promotion Charity. Our mandate is to grow 'AWARENESS' of MPNs & to aid in improving the "Quality of Life (QoL) for all MPN sufferers by specifically fundraising for Rare Blood Cancer research. While we believe we have worked tirelessly & diligently to deliver this historic cycling "Secret Dyarubbin River Ride event, we unfortunately have no control over the 'weather gods' on the day. Hence, cancellation of the event is always a possibility due to any number of potential adverse conditions on the day. In such an instance, refunds of Rider's Entry Fees or Sponsorships will not be offered. We thank you for your understanding, generosity and assistance in this most worthy endeavour.