"PLAN–B" NSW COASTAL RIDE...
MPN-MATE RESEARCH FOUNDATION

Is now a fully Registered Australian "Not For Profit" Health Promotion Charity, and ALL donations of $2 or more are tax deductible, as we also have 'Donor Gift Recipient – Tax status.
As Myeloproliferative Neoplasms, (MPNs), are a relatively new field of Blood Cancer in the Australian fora, not much research is presently being undertaken specifically for MPNs, their treatments, and or a possible cure.
Allogenic Stem Cell Transplant, (ASCT), is the only currently available curable option open to MPN patients. However, the odds of a successful outcome via ASCT is circa less than 50%… and therefore, not the best opportunity for a full recovery, (& depends on a great many variables being – Just Right – Goldilocks Cure), at the present time…
With those odds and all of that in mind, a small group of  dedicated MPN patients have decided to try to undertake these fundraising efforts in order to contribute into better outcomes for all MPN patients, their families, friends and carers.
Cycling around Australia, maybe on 'HOLD' for the present, however, our New "PLAN–B" is rapidly coming together to cycle around. parts of NSW & staying well inside our own borders, (More on this shortly).
Presently, we are starting again, in order to attract all Major, Medium, and Minor Sponsorships that might be interested in gaining some National Marketing exposure for their products or services, by providing for any of the following items:
A Gratis Marketing / PR Consultancy that will ensure this Fundraiser is the success that we wish it to be… (NEW!)
Campervan/Motorhome, (to act as support vehicle w/ fridge for medications for the duration of the journey)

(ACQUIRED)

Branded Bike Shop 
Providers of Nutritional enhancement via sports drinks & gels – PRECISION HYDRATION
Custom Jersey designers & manufacturers – 
Donated gifts of famous celebrity & sporting memorabilia for our Auction where 100% of all proceeds will go to Peter MAC's MPN research   – FIRST GIFTS RECEIVED
Any and all new products related to our FR event that might be provided as gifts for sponsorship will of course be most gratefully welcomed …
We might also be looking for other MPN patients who might like to join us through part/all of the actual journey, (more to follow later on this point)
 Sponsorships can be provided for as cash donations or as a required product items to the value of the desired level of Sponsorship
Accommodation providers for each night's respite – NRMA PARKS & RESORTS
Please contact us directly in order to set up your desired Sponsorship by emailing us on: Steven@mpn-mate.com and of course we will come back to you ASAP to answer any and all questions that you might have. Thank you for your generous support to this very important and worthy cause.
Sponsorship Cycling Kit & Corporate Logo Positions
(Amendments to the Graphic Below will be made shortly to reflect the changes)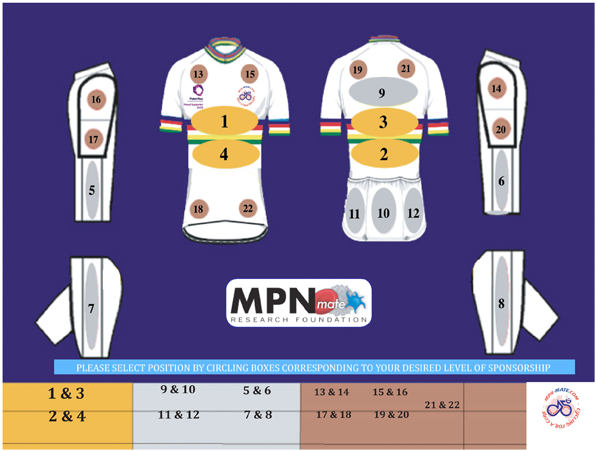 "PLAN–B"
NSW COASTAL RIDE...​
Levels of Sponsorship Explained…
All MPN-MATE RF Sponsor Logos will be displayed on our Cycling Kit and on other various forms of marketing media throughout the time that the Fundraiser remains a live effort. Either while cycling around our brilliant NSW coastline, or across our Fundraising websites, (including selected forms of Social & Traditional Media), or via the Sponsorship selected by the various sponsors and according to those terms for negotiated arrangements.
Above is a graphic representation of our Jersey and Shorts design that also has corresponding numbers that match up with the desired level of Sponsorship colours of either: Gold, Silver, or Bronze.
Essentially, there are Three (3) main types of Sponsorship, and they are described in greater details below, (please scroll down):
Gold

– Major Sponsors       => $5,000 x 2 Only
Silver – Medium Sponsors  => $2,500 x 4 Only
Bronze – Minor Sponsors   => $1,000  x 5 Only
The 'Targeted' amount we are endeavouring to raise for PETER MAC MPN Research to become a reality in Australia is $25k, but we really don't mind if we go over that by just a tad…
Jersey and Shorts Cycling KIT– MATES Shop
RIDERS (Maximum of FOUR (4) ONLY!)
Utilising a SIX (6) Berth Motorhome, each RIDER will receive two (2) Kits consisting of Short-sleeved Jersey & Bibshorts; Precision Hydration 1500 x 10 hydration tabs & bidon, & Fisiocrem have created an exclusive Riders pack of goodies…
Each night we will consult about the next day's RIDE, before retiring to a predetermined hotel accomodation to rest & freshen up before the next day's stage (Leg) event etc.
A Map of the Course, and all other pertinent details will appear here shortly, however, a brochure can be obtained from Steven by emailing him direct with all other questions you may have: steven(at)mpn-mate.com
Thank you for your generosity and ongoing support. Your decision to take action today and join us for this monumental event means that you will be assisting a great many Australians to eventually live a much better Quality of Life (QoL). Thank you so much again…
Steven
For & on behalf of MPN-MATE RF Committee (All MPN Patients)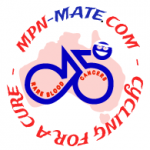 Other ways you can contribute to our ride...
Shortly, we will make available our intended 'Ride Itinerary' here. It is hoped that as we make our way around NSW that others might like to come and join us for a 'Leg' of the journey. Naturally, only riders that have their own insurance in place will be able to join us. However, it would be awesome to have others ride with us during different parts of our mammoth trek... Any rider, who is fully self-sufficient, and over the age of 18, (with their insurance validated), will be able to join us for a complete "NO DROP" leg of our journey, and it's conservatively priced at $150.00 per rider... Naturally, any rider will be expected to sign-off on a 'waiver' to not hold MPN-MATE RESEARCH FOUNDATION, (or any of our agents), liable in any way. However, places will be limited to only two (2) extra riders per leg. So get in fast...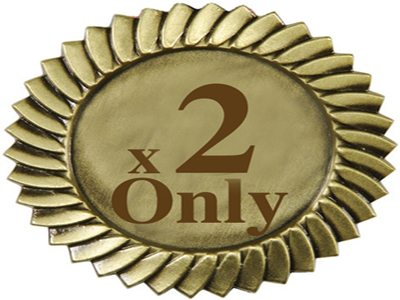 $5,000 GOLD SPONSORSHIPS
There are only TWO (2) GOLD Sponsorships available
A GOLD Sponsorship provides:
Cycling Kit Logos (Large)
MPN-MATE (website) 
National Promotion & Marketing
Social  Media ~ FB, Twitter & Strava
Radio & Traditional Press where possible
CORPORATE LOGOS WILL APPEAR HERE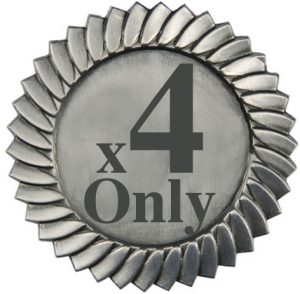 $2,500 SILVER SPONSOSHIPS
There are only FOUR (4) SILVER Sponsorships available
SILVER Sponsorship provides:
Cycling Kit Logos (Medium)
MPN-MATE (website) 
National Promotion & Marketing
Social  Media ~ FB, Twitter & Strava
Radio & Traditional Press where possible
CORPORATE LOGOS WILL APPEAR HERE
$1,000 BRONZE SPONSORSHIPS
There are ONLY FIVE (5) BRONZE Sponsorships available
BRONZE Sponsorship provides:
Cycling Kit Logos (Small)
MPN-MATE (website) 
National Promotion & Marketing
Social  Media ~ FB, Twitter & Strava
Radio & Traditional Press where possible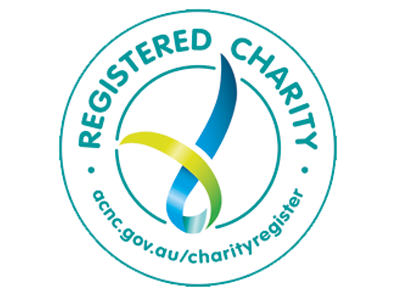 MPN-MATE RESEARCH FOUNDATION
An Australian Registered 'Not-For-Profit' Health Promotion Charity working to create better treatments & ultimately a cure for rare blood cancers
CORPORATE LOGOS IN RECOGNITION OF ALL OUR GENEROUS SPONSORS...
Australia's Leading Cancer Research Institute in collaboration with MPN-MATE.COM to conduct specific MPN Research in the Australian fora...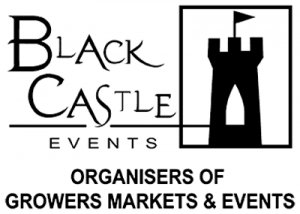 The Ride commences from Castle Hill Showground on Saturday April 10, 2021 from 9:30AM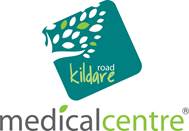 KRMC
Many thanks to Kildare Road Medical Centre for their ongoing support

Thank you Woolworths for your support
Acknowledgements:
From the time that I first decided to take up cycling as my new fitness regime there have been many people whom I have met along the way within the cycling fraternity, and to all of them I could not be more grateful for their camaraderie and their friendships. All of them have helped me in a myriad of ways both as training partners and to see the unwritten ethos that exists within the cycling fraternity. Normally, within cycling community, if someone is stranded on the side of the road, another cyclist and usually a complete stranger will opt to assist one another in a type of 'Pay It Forward' methodology, and that is all we are really doing here… Just being good and helpful community members prepared to assist others when they need a hand …
Thank you to all of you, (and special thanks to some of those training partners who are pictured in the carousel gallery above), because without your friendships I could never have contemplated making this attempt.
Disclaimer:
---
The MPN-MATE Fundraiser (FR), is organised independently via the members of the MPN-MATE patient's FORUM website, and as such, other MPN-MATE Patients can involve themselves if they would like in a myriad of ways to help make our FR the success we all want it to be. However, at all times, all communications concerning this FR event must only be issued directly via MPN-MATE's coordinators, and not by any other individual without first having applied for and received MPN-MATE's expressly provided authority to do so. With all such FR events, great care must always be exercised to be certain that no disrepute or misrepresentation is ever forthcoming on behalf of MPN-MATE or anyone acting on any expressly provided consent authority. MPN-MATE makes no warranty of guarantee concerning the accuracy of any of the information that appears upon the MPN-MATE website. At all times, every care is taken to provide information that is current and relevant to our subject matter, and that is Myeloproliferative Neoplasms and rare blood cancers, and their treatments. Therefore, everyone who uses our website agrees to take all responsibility for doing so upon themselves, and warrants to never make a claim against MPN-MATE or any of its members/users.